Upgrade Your Diff Cover and Avoid Costly Repairs
Yukon Hardcore Diff Covers are designed to protect lockers, gears, and axles from the abuse that makes wheeling an adventure. Yukon covers are constructed from thick-walled, high-strength ductile nodular iron to endure the most severe impacts Mother Nature can dish out. They also increase the structural rigidity of the differential, reducing deflection under high-torque, situations that can put severe loads on internal parts.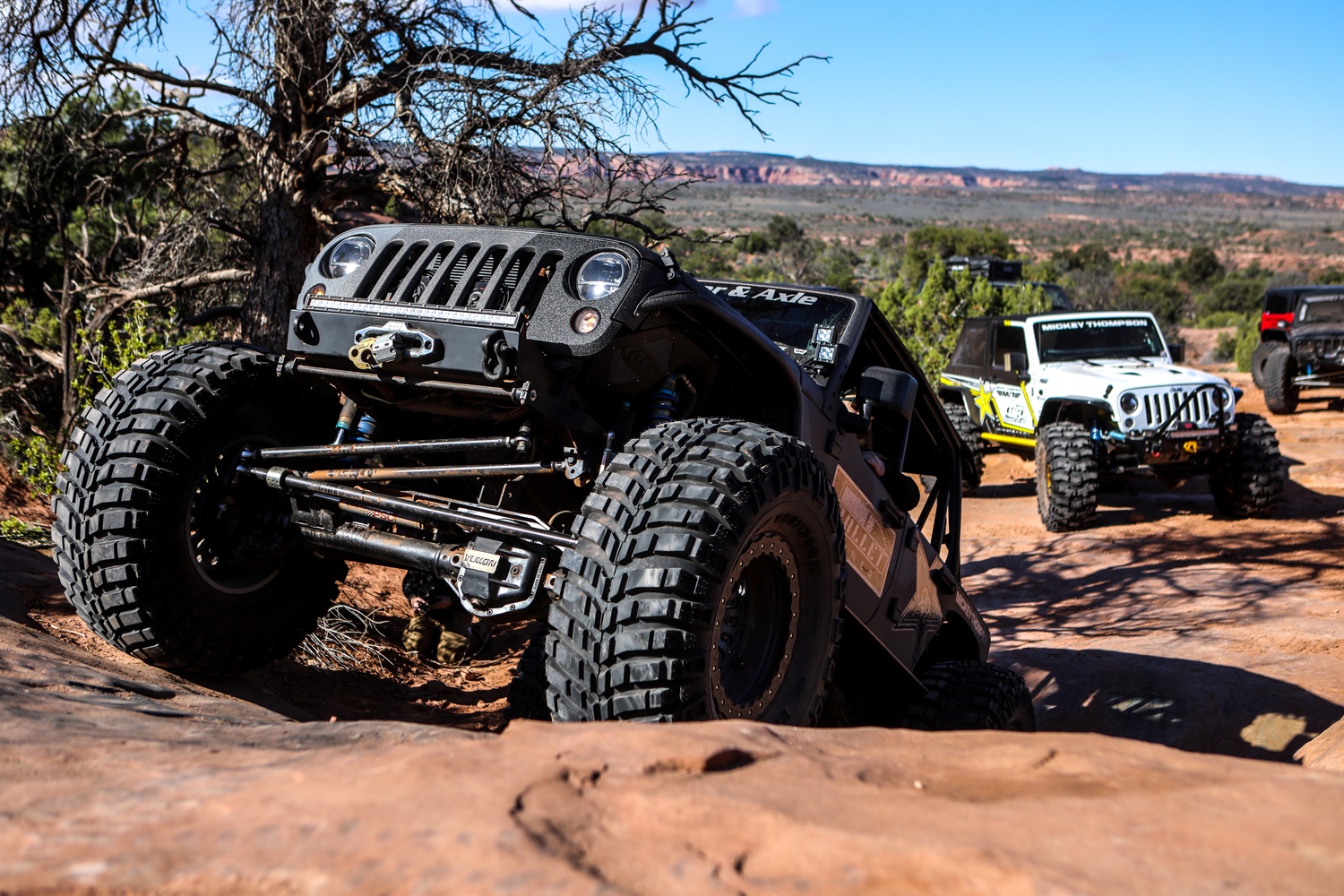 It's no secret that the underside of your rig can take a beating. Whether you're deep into a high-angle, high-anxiety rock crawl, pulling rope and winching, or running hard on the track, aftermarket bumpers, skid plates, and rocker guards all play a critical role in keeping vital underbelly components safe. But what about your diff? It's the lowest hanging fruit and very susceptible to damage. Crack or break a diff cover and you're done for the day.
Stock differential covers can be overwhelmed when the going gets tough. Stamped-steel construction makes them prone to failure. Dent damage can cause interference with ring & pinion gears and spider gears, which will bring your day to a grinding halt. Another failure is cracking. Cracks let gear oil out and allow water, mud, and debris in. Both scenarios will end your fun and lead to large, jaw-dropping repair bills. These misadventures make for some harrowing campfire stories, but it's always better to talk about the victories of the day. Don't let this happen to you.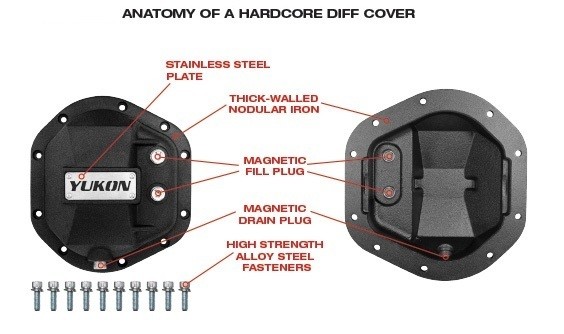 Heat dissipation is also a function of a cover's structural design. To this end, Yukon engineers have contoured the inner surfaces of the cover to circulate oil more rapidly throughout the housing, allowing for faster cooling. This reduces friction, heat, and wear, a classic trifecta of durability.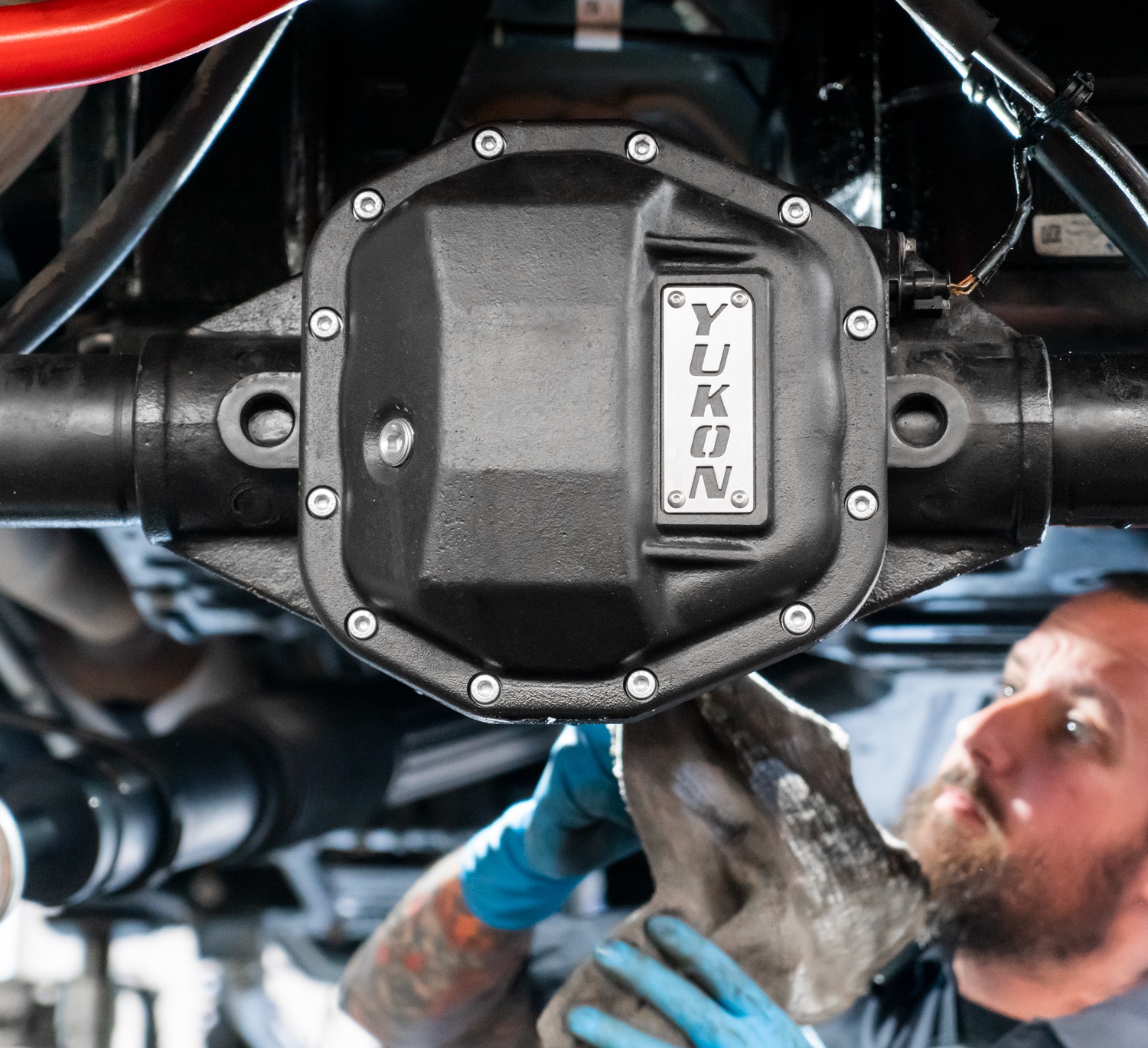 Each Yukon Hardcore Diff Cover includes alloy steel fasteners that reliably seal the housing for leak-free performance. High-quality magnetic drain plugs are employed for quick-and-easy maintenance and some units feature twin fill plugs so you can max out the housing's oil capacity.
Thick-Walled Nodular Iron Cover Takes a Beating Keeps on Wheeling
Streamlined Interior Contours Direct Oil Flow to The Pinion
Includes High-Strength Alloy Steel Fasteners
Heavy-Duty Protection for Added Peace-Of-Mind
Style has its place, and these covers look great. They feature a durable black powder coat finish that is contrasted by a stainless-steel "Yukon" accent plate and the cover bolts.
Yukon Hardcore Diff Covers are available for many of the most popular differentials. Check out the comprehensive list of applications in the accompanying chart or click through via the 'Shop All Yukon Hardcore Differential Covers' button and up the safety-factor of your ride today.

Part Number Differential Application
YHCC-D30 Dana 30, 10 Bolt
YHCC-D30JL Jeep JL Dana 30, 12 Bolt
YHCC-D35JL Jeep JL Dana 35, 12 Bolt
YHCC-D44 Dana 44
YHCC-D44JL-Front Jeep JL 44 Front, (M220)
YHCC-D44JL-Rear Jeep JL 44 Rear, (M210)
YHCC-D60 Dana 50, 60, & 70
YHCC-F8.8 Ford 8.8"
YHCC-GM14T-M GM 14 bolt Truck, W/ M8 Bolts
YHCC-GM14T-S GM 14 bolt Truck, W/ 3/8" Bolts
YHCC-GM8.5-M GM 8.5" Metric
YHCC-GM8.5-S 1313GM 8.5" Standard
YHCC-M35 Model 35 Rear