Reclaim Performance in Big-Tire Yotas
Toyota owners can now take advantage of performance-engineered Yukon Gear & Axle gear sets that have been proven at King of the Hammers, the granite crags of Moab, and in Ultra4 competition across the country. Yukon's convenient ring and pinion Re-Gear Kits bundle everything you need to upgrade your Toyota's front and rear differentials in one simple part number to save you time. These kits feature premium Yukon ring and pinion gears, Master Install Kits with high-quality Timken/Koyo bearings, and all the small parts you'll need to get your vehicle back on the road quickly so you can make the most of your time on the trail.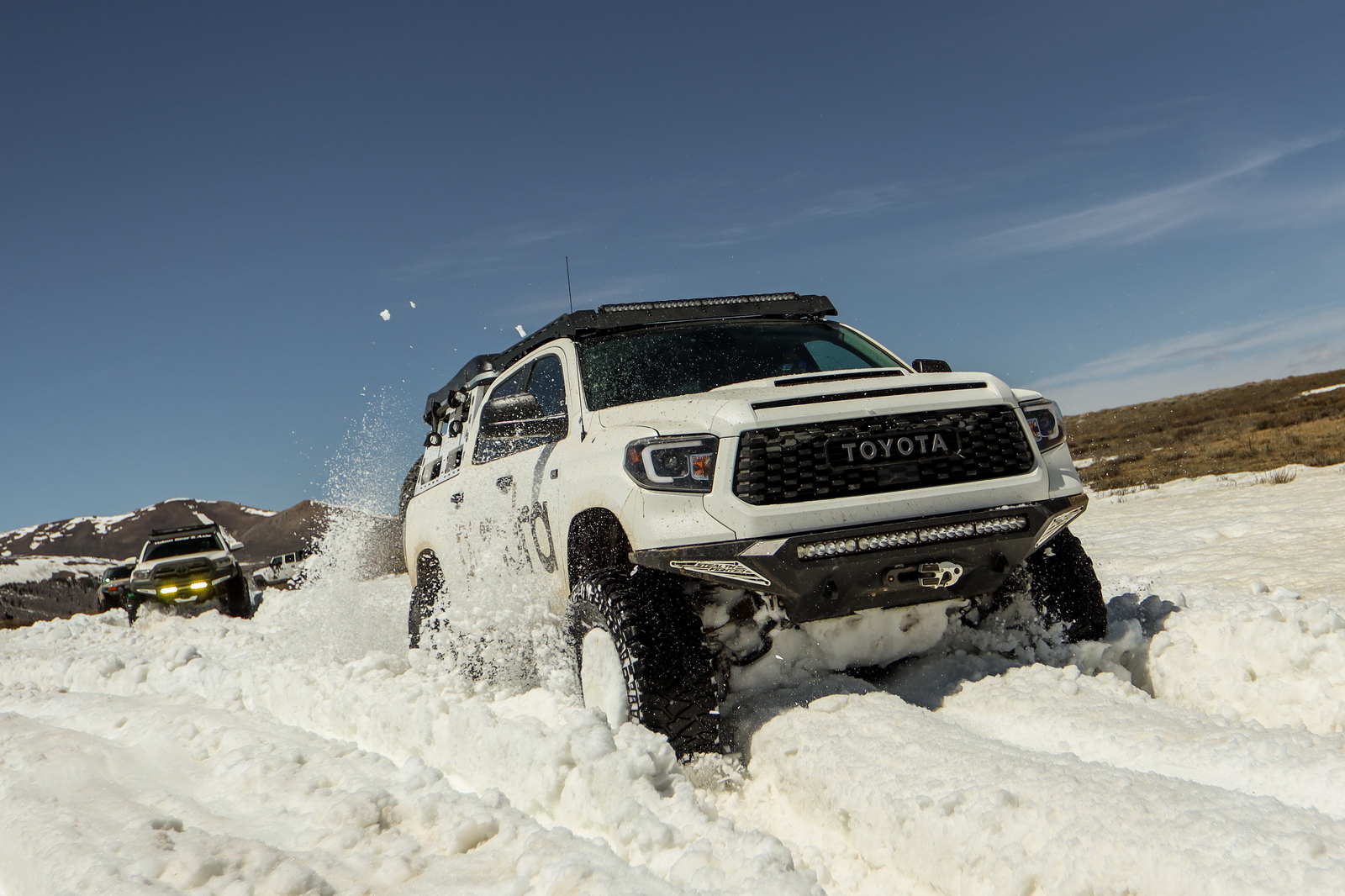 There are two main reasons to re-gear your ride. The first is to recapture the lost performance and fuel efficiency of a daily driven vehicle that has been upgraded with larger wheels and tires. The second is to fine tune the performance characteristics of a vehicle that is a dedicated off-roader where the focus is more on low-end grunt and mild acceleration.
Yukon's Toyota gear program covers 1996-and-up 4Runners, '95-and-up Tacomas, and 2000-and-up Tundras. This offering encompasses popular Toyota differentials like the 8.75" rear, 8" clamshell front, and 8" rear that is featured on countless V6-powered Toyota 4x4s. Toyota 8" diffs are stout and utilize a third-member, dropout-style design, much like the Ford 9" and Chrysler 8.75" unit. This means the carrier and internals of the diff can be easily removed for ring and pinion upgrades.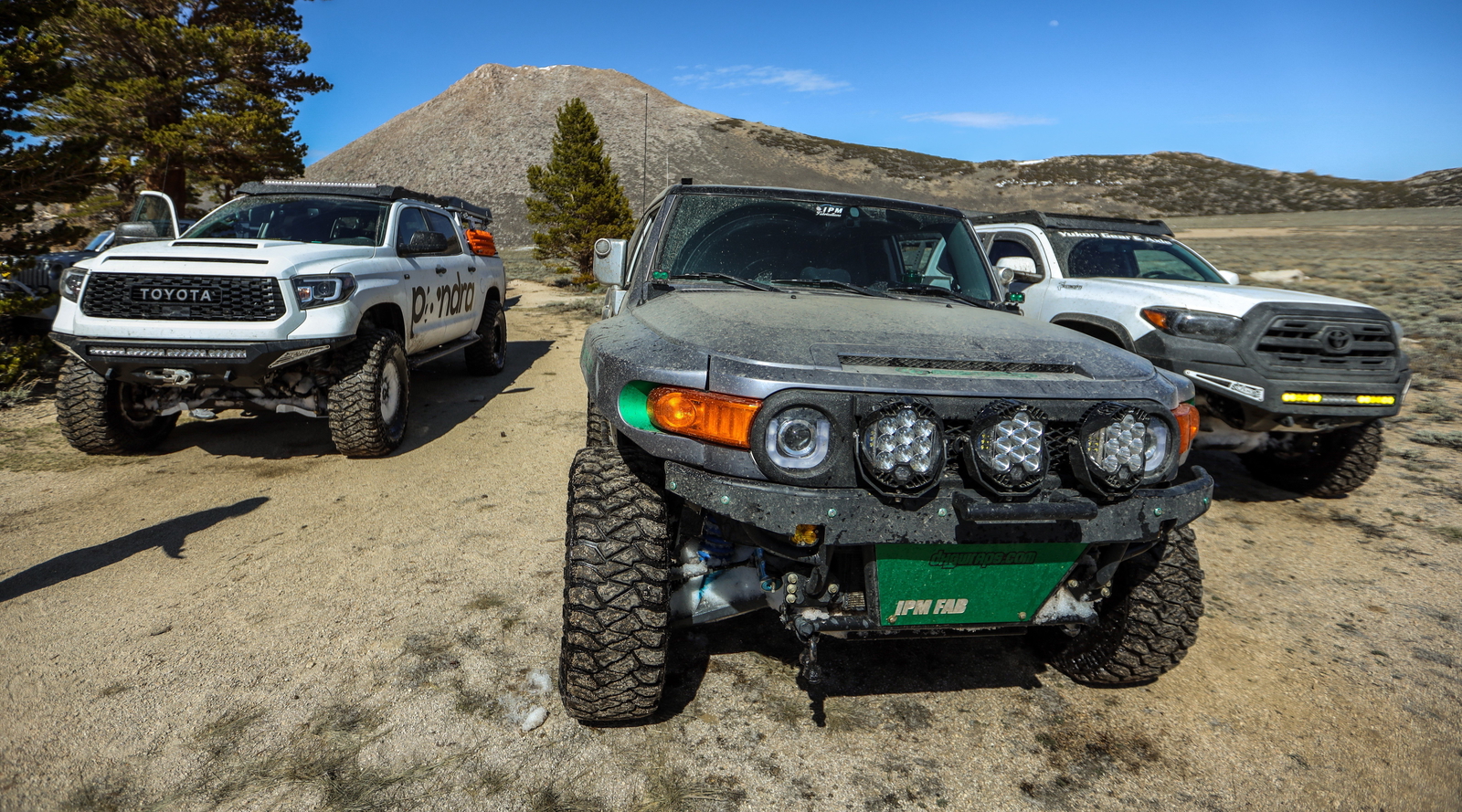 Gear Ratio Explained
If you're adding big tires, you're technically already re-gearing because the increase in tire circumference changes the final drive ratio. Remember, if your Toyota is running a 4.10 gear, the pinion gear spins 4.1 times to generate one revolution of the ring gear. Further, upsizing tires likely increases the un-sprung weight, or rotating mass, of your rolling stock. This also increases the vehicle's overall rolling resistance. That's a lot to overcome. On the road, your vehicle will take longer to accelerate, turn a lower engine rpm to maintain a highway speed, and get poor gas mileage because of the increase in weight/rolling resistance. Big tires also put a lot of additional stress on the drivetrain, stock braking system, and factory steering components.
Re-Gearing Explained
A worrisome trend we've seen is owners who think that since their rig has a six-, seven-, or eight-speed transmission they don't have to upgrade their gear set when they jump up in tire size.
The culprit is the increased load of larger tires. It can keep you from realizing the full benefit of the tire upgrade because the transmission won't shift into its higher gears. It's not uncommon to see the tranny hanging out in lower than normal gears at light throttle on the freeway. Or to feel it shuttle shifting, trying to find the right gear for the situation. Even if you're okay with that, the undue stress on the transmission can lead to early failure and a big hit to your wallet. Changing ring and pinion gears is the answer.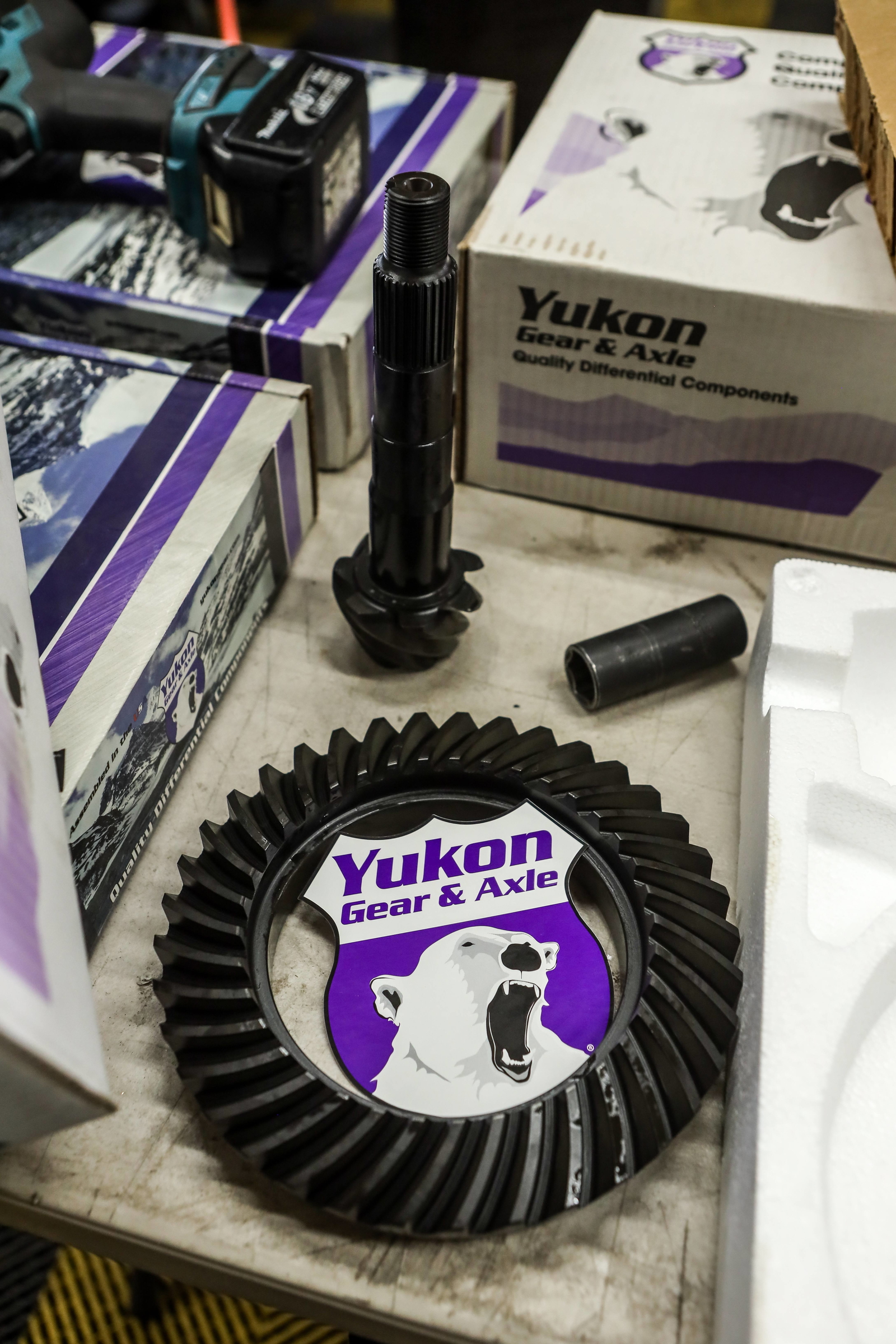 Understanding Different Ratios
Gear talk can be confusing. Wheelers have different was of talking about the same thing… tall gears, high gears, low gears, deep gears… you get the idea. Tall gears produce a lower numeric ratio i.e. 3.08, 3.73 (or lower), while short gears or deep gears refer to higher numeric ratios i.e. 4.88, 5.29 (or higher).
Numerically higher gear ratios produce more torque, are quicker off the line, and deliver a lower top speed. Conversely, lower numeric gear ratios produce less torque, are slower at launch, and deliver a higher top speed. The wrong ratio will cause reduced fuel economy because the engine will work too hard to maintain freeway speeds. Too-high of a numeric ratio will lug the engine so it needs more throttle to attain and maintain freeway velocity. On the other hand, a too-low numeric ratio will produce a high-strung engine that spins fast just to run at freeway speeds. It's a trade-off.
How to Select a Ratio That's Right for You
To figure out what your rig is doing and how to pick the right ratio, you need to know your gear ratio and tire height in stock trim. These factors can be used to determine your engine rpm at a given vehicle speed. The homepage has easy-to-use calculators that compute gear ratio and tire height. Then simply take those numbers and feed them into the RPM Calculator. Use your stock set-up as a baseline to determine your vehicle speed/engine speed relationship in stock trim.
Then enter your new tire diameter and adjust the gear ratio to best match stock freeway numbers if you're wanting to replicate stock drivability or adjust for more low-end pull or top-end fuel mileage if you wish to change the driving dynamics of your rig.
Going big-tire is not as simple as getting those 40 inchers to fit then hitting the road. There are cascading effects at work. The big tires impact acceleration, freeway cruising, and many aspects of off-road performance. Yukon Re-Gear Kits allow you to restore that all-important drivability in one fell swoop.
Yukon Gear & Axle Toyota Re-Gear Kits Highlights
Re-Gear Kits upgrade your Toyota's front and rear differentials
Saves you time by bundling everything you need to do the job right
Regain lost vehicle performance from big-tire upgrades
Kits include Yukon ring and pinion gear sets and premium Timken/Koyo bearings